Why Choose Pizza Box Advertising?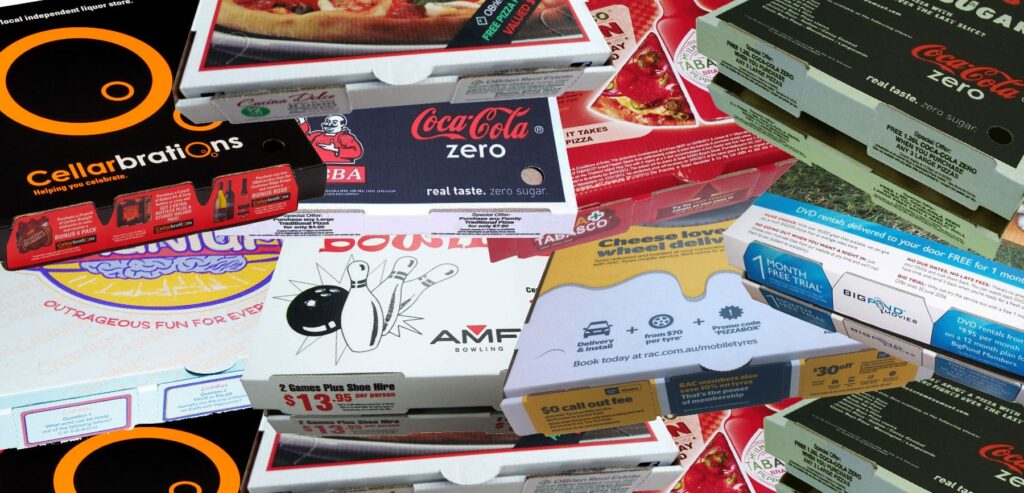 It's simple! Pizza box advertising gets your clients' premium brand message delivered straight into the hands of their target markets both regionally and nationally in a uniquely direct manner. It provides reliable, high impact, cost effective and expansive distribution to the homes of consumers.
Reliability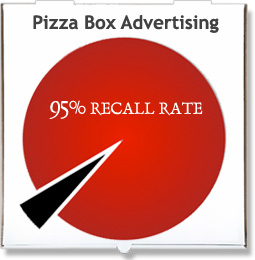 Your clients' brand/message hand delivered to an occupied home straight into the hands of their target market. No more dependency on newspaper, magazine or flyer advertising which may or may not be received by the consumer.
High Impact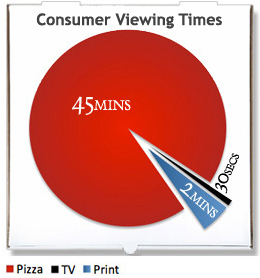 A unique, high impact, ambient advertising platform. A walking billboard delivered into the hands of, viewed and shared by on average four or more people for 45 minutes…viewed without the distraction of advertising from competitors. Your clients brand stands alone with its own private audience.
Cost Effective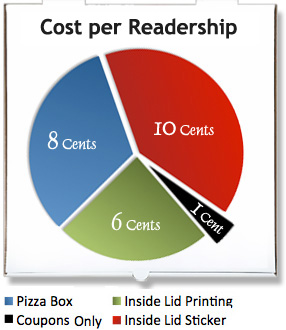 In the current economic climate cost effective and efficient forms of advertising have never been more important. Pizza box advertising promises just that. Whether it be branded messaging or coupon usage pizza box advertising guarantees your client's message is delivered to persons with expendable income at a minimal cost.
Expansive Distribution
Pizza Box advertising will distribute your clients brand and message with ease and regularity. Over 93% of pizza stores worldwide have take away and/or delivery so must have pizza boxes to operate. Most families will eat pizza at least once a month and in times of economic down turn that number increases. Pizza box distribution is not only far and wide reaching, but continual and in high demand.
Why Choose Coupons?

Regular use of good couponing will provide a steady stream of new customers and high quality sales leads. Now that's food for thought!
To Increase Number of New Customers ~ entice customers away from competitors
To Increase Sales of a Specific Product
To Increase Your Market Area ~ customers will travel far to redeem a coupon
To Increase Branding & Awareness
To Reward Current Customers and Entice Return of Former Customers
To Create An Opportunity to Up-sell a More Profitable Product
To Increase Impulse Purchasing
Higher the Income bracket, the higher the usage
Highly Measurable Form of Marketing
According to a Nielsen Survey of more than 25,000 respondents across 51 countries, using coupons was the second most popular saving strategy (Buying items on sale was first)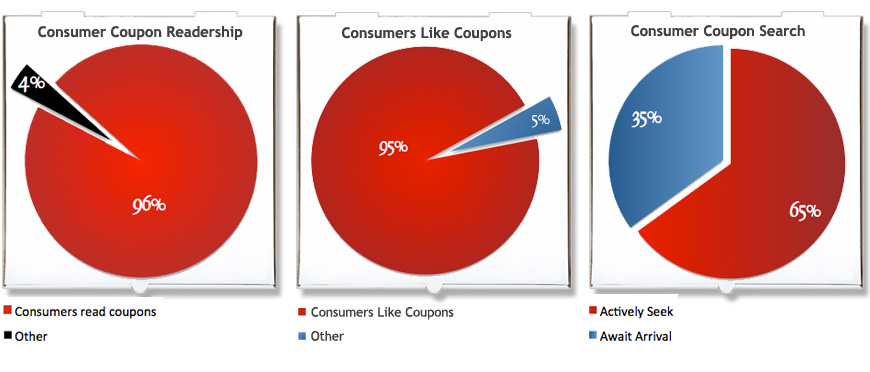 Why Pizza Box Marketing?
Here's a few more good reasons why:
An increase in "work from home" periods has lead to an increase in the time spent at home. The food industry has been quick to respond with a big focus on take away and home delivery
Pizza box advertising offers an advertising concept that can reach consumers at their safest place: at home
Sometimes the consumer leaves the pizza in the fridge generating additional exposure time!
With over 4,000 independent pizzerias in Australia pizza box advertising is an extremely powerful marketing tool used to reach Australian consumers
On average, pizzerias deliver 2,000 pizzas' per month …that's a lot of pizza boxes offering hours of exposure and a maximum number of impressions for less cost than most other ways to advertise
Pizza box ads create an element of surprise making the advertising more effective and memorable than alternate marketing platforms
Consumers are overwhelmed with digital advertising barely remembering them. Pizza box advertising is delivered without distraction from competitors
Pizza box advertising provides the opportunity to segment the audience and precisely target a specific demographic profile by selecting pizzerias in specific areas