HOW DOES IT WORK?
It's simple!
WE REPLACE EXISTING PIZZA BOXES WITH ADVERTISING PIZZA BOXES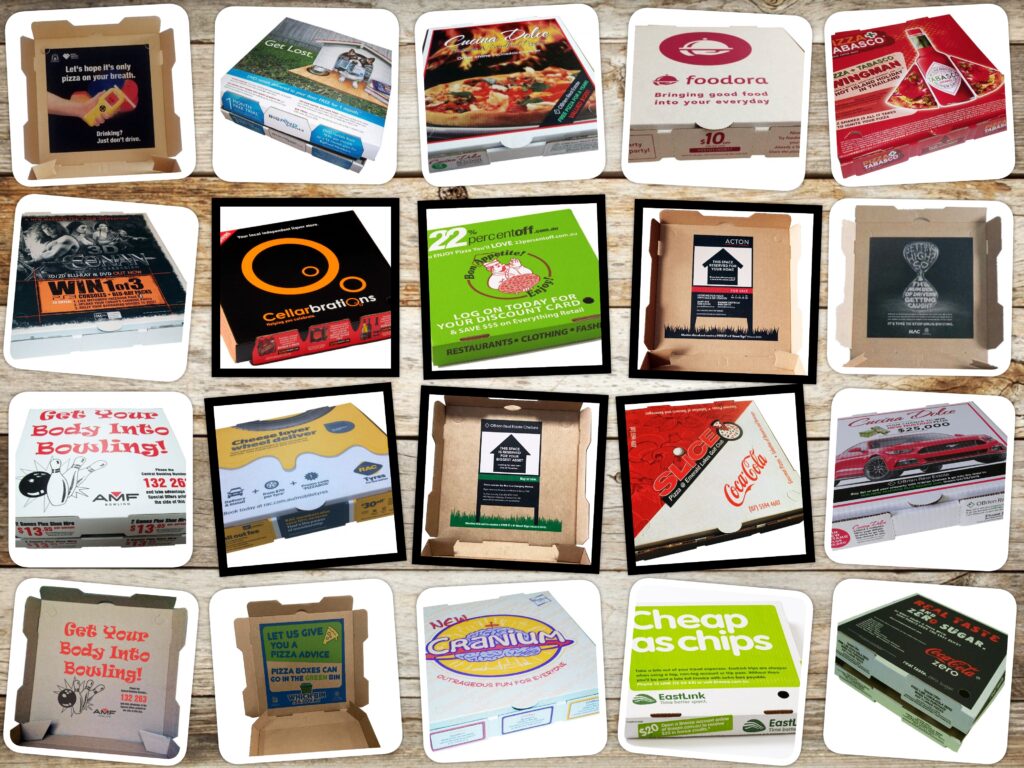 We print, warehouse and provide a reliable weekly distribution of pizza boxes to over 4,000 independent pizzerias nationally.
Why use independent pizzerias?
Our network of over 4,000 strong independent pizzerias has a reach of over 500 pizza deliveries per store per week ……… that's a lot of guaranteed customer impressions per campaign!
With a choice of a fully branded pizza box,  inside lid printing, and/or coupon promotion all you need do is order your pizza box advertising campaign and our distribution partners will distribute to pizzerias in designated marketing areas on a weekly basis.
That's right we take care of it all – including transport!!!!
We provide reliable weekly distribution giving your clients piece of mind with confirmation of delivery with every campaign we distribute.
OUR DISTRIBUTION
XMG provides targeted reliable and expansive distribution worldwide.
In Australia and New Zealand we offer distribution per city per state or nationally.
In Australia we can distribute as little as 10,000 boxes to any location. Click below to download Australian Media Kits .

Distribution to other destinations can be organised upon request
Our international distribution is far and wide reaching.

We are transparent with all our customers to ensure they receive quality, service and price. If you wish to organise your own distribution, that's fine by us. We are experienced when it comes to import and export logistics of pizza boxes and can provide the best possible pricing. We transport millions of pizza boxes globally and understand the need to ensure that everything complies with the Customs Act and Quarantine Inspection Services to guarantee that the Customs process is simple and drama-free.
Below are container quantities and a list of some major ports to provide an indication of approximate transit times (delivery to any port globally is available). Contact us to see what's possible.
E-FLUTE PIZZA BOXES
| SIZE | 20ft Container | 40ft HQ Container |
| --- | --- | --- |
| 10" | 84,000 | 194,000 |
| 12" | 63,500 | 147,000 |
| 13" | 56,500 | 130,000 |
| 14" | 50,000 | 115,000 |
| 16" | 40,500 | 94,000 |
*Other Sizes Available upon Request
Worldwide Transit Times
NORTH AMERICA (USA, Canada, Mexico)

Los Angeles, USA (13-20 days)
West Coast, USA (13-20 days)
New York, USA (24-33 days)
East Coast, USA (22-35 days)
Montreal, CAN (23-35 days)
Totonto, CAN (22-24 days)
Vancouver, CAN (13-25 days)
Manzanillo, MEX (16-29 days)

EUROPE (Germany, England, France, Netherlands, Portugal, Spain, Italy, Greece, Turkey)

Hamburg, Germany (26-37 days)
Tilbury, England (32-42 days)
Le Havre, France (24-35 days)
La Spezia, Italy (26-38 days)
Naples, Italy (26-37 days)
Genoa, Italy (24-36 days)
Valencia, Spain (27-39 days)
Cartagena, Spain (29-39 days)
Rotterdam, Netherlands (25-36 days)
Istanbul, Turkey (31-42 days)
Izmir, Turkey (31-41 days)
Lisboa, Portugal (27-39 days)
Thessaloniki, Greece (31-41 days)

SCANDINAVIA (Norway, Sweden, Denmark, Finland)

Oslo, Norway (32-40 days)
Larvik, Norway (32-40 days)
Stockholm, Sweden (36-41 days)
Gothenburg, Sweden (31-41 days)
Helsinborg, Sweden (31-41 days)
Malmo, Sweden (32-39 days)
Lasby, Denmark (31-39 days)
Fredericia, Denmark (30-39 days)
Helsinki, Finland (32-40 days)

NORTH EAST ASIA (Japan, Korea, Hong Kong, China)

Hakata, Japan (3-5 days)
Tokyo, Japan (3-5 days)
Busan, Korea (3-5 days)
Hong Kong, Hong Kong (3-5 days)
East Coast, China (3-5 days)

SOUTH EAST ASIA (Singapore, Thailand, Vietnam, Malaysia, Indonesia, Philippines)

Singapore (7-10 days)
Bangkok, Thailand (7-15 days)
Laem Chabang, Thailand (6-13 days)
Port Kelang, Malaysia (8-12 days)
Penang, Malaysia (9-14 days)
Surabaya, Indonesia (9-13 days)
Jakarta, Indonesia (9-14 days)
Manila, Philippines (6-17 days)

MIDDLE EAST (Jordon, Kuwait, Israel, Lebanon, Qatar, Saudi Arabia, Syria, United Arab Emirates, Yeman)

Aqaba, Jordon (20-27 days)
Shuaiba, Kuwait (20-26 days)
Shuwaikh, Kuwait (20-26 days)
Ashdod, Israel (21-27 days)
Haifa, Israel (20-27 days)
Beirut, Lebanon (21-33 days)
Doha, Qatar (22-28 days)
Dammam, Saudi Arabia (10-21 days)
Jeddah, Saudi Arabia (10-22 days)
Lattakia, Syria (22-30 days)
Tartous, Syria (30-33 days)
Abu Dhabi, UAE (20-26 days)
Jebel Ali, UAE (15-20 days)
Dubai, UAE (18-24 days)
Khor Al Fakka, UAE (20-22 days)
Aden, Yemen (18-25 days)
Hodeidah, Yemen (19-29 days)

SOUTH AMERICA (Argentina, Brazil, Uruguay, Chile, Venezuela)

Buenos Aires, Argentina (32-38 days)
Rio de Janeiro, Brazil (30-43 days)
Santos, Brazil (28-34 days)
Paranagua, Brazil (30-41 days)
Montevideo, Uruguay (30-41 days)
San Antonio, Chile (26-34 days)
Puerto Cabello, Venezuela (29-39 days)

AUSTRALASIA (Australia, New Zealand)

Sydney, Australia (14-21 days)
Melbourne, Australia (12-21 days)
Brisbane, Australia (16-21 days)
Perth, Australia (14-25 days)
Adelaide, Australia (18-28 days)
Hobart, Australia (21-35 days)
Auckland, New Zealand (16-32 days)

AFRICA (South Africa, Kenya Tanzania, Morocco)

Durban, South Africa (20-26 days)
Cape Town, South Africa (25-33 days)
Mombasa, Kenya (20-25 days)
Dar Es Salaam, Tanzania (24-32 days)
Casablanca, Morocco (30-40 days)

PACIFIC ISLANDS (Hawaii, Guam, Papua New Guinea, Solomon Islands, New Caledonia, Fiji)

Honolulu, Hawaii (14-18 days)
Guam, Guam (14-18 days)
Lae, Papua New Guinea (23-28 days)
Honiara, Solomon Islands (28-33 days)
Noumea, New Caledonia (24-35 days)
Lautoka, Fiji (36-42 days)